Current Projects
SCG's main objective has always been to promote Concorde being returned to flight in a heritage capacity.  However, our interests doesn't stop there, solely!
We are of course interested in all items regarding Concorde whatever that maybe and here's an overview of some of the projects that we're working towards: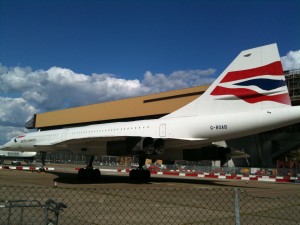 Concorde for Heathrow
SCG have been working for several years to determine the future of Concorde G-BOAB that is based at London Heathrow.
This aircraft was retired from commercial service following the accident in 2000 and was used for spares until the aircraft was retired.  Since 2003, she has been placed in several different locations air-side at London Heathrow but a permanent one is yet to be confirmed.  SCG believes that this aircraft should remain at London Heathrow, as a symbol of the UK's commercial supersonic home, just as is done with France at Paris Charles de Gaulle airport.  SCG was delighted to present our ideas in a proposal to British Airways at the end of May 2011 which is currently being reviewed by British Airways with feedback due soon.
You can read more about our proposals here: SCG – Concorde for Heathrow Proposal
Project Alpha Foxtrot
In July 2010, SCG were informed by Concorde at Filton, the temporary exhibit for G-BOAF (Alpha-Foxtrot) that her short-term future was under threat and that the museum was to close in October 2011.  SCG immediately commenced an emergency campaign to try to prevent this from happening, which involved job losses and the public being unable to visit this fantastic aircraft where world-class tours were provided on the site where this famous aircraft was built.  Regretfully, the museum was closed in October 2011 for a programme of intense maintenance to be conducted.  SCG were invited by Airbus UK to visit the work that had been carried out on this airframe and was delighted with the care that Airbus UK have shown to this aircraft.  However, the work hasn't stopped there.  This aircraft will not go on public display until a new, permanent museum is constructed.  The Concorde Trust has been looking at a £9m scheme, which would have included a £2.9m grant from the Heritage Lottery Fund.  This application was rejected in May 2011 on a fairly basic, fundamental point, that the HLF does not fund any part of a project that involves construction and that it's only awarded solely for preservation.  SCG  met with The Concorde Trust prior to this and voiced concerns that this project seemed incredibly over-ambitious and that something more low-cost which could continue to promote the world-class, exclusive tours that this aircraft offered, would be more appropriate.  There is already a proven model which is commercially successful with Concorde G-BOAC in Manchester and so SCG has decided to work on an alternate low-cost proposal.
In May 2011, it was announced that Filton Airfield is to close on 31st December 2012.  As a result, the future of this aircraft is even more critical than it was previously and a solution has to be sought and delivered before this happens.
After being invited by a joint-panel consisting representatives of Airbus UK and British Airways, SCG submitted it's detailed proposal to British Airways at the end of 2011 which was further presented in person in February 2012.  After a considerable period to review our proposal along with other submissions, the joint-panel of BA and Airbus decided to continue having Alpha-Foxtrot cared for by the newly formed Bristol Aero Collection Trust.  You can read a summary of our proposal here:
SCG – Concorde at Filton Proposal
Olympus 593
Following a visit by SCG to Paris in November 2009, SCG is proudly associated with our friends in France at Olympus593.  Initially, Olympus593 have been striving ahead to do some exploratory wory on F-BTSD (Sierra-Delta) based at Le Bourget.
Both organisations continue to support each other in a joint-venture capacity with the sharing of knowledge, information, contacts and equipment in their equal joint capacities of working to preserve Concorde's heritage.