Return to Flight – The Main Issues
For any of the aircraft to get to a Return to Flight (RTF) stage it is almost certain that the airworthiness authorities will insist on a D (Major) Check being done, due to the many years of airframe inactivity, and this is going to take MANY months (even up to one year) of hard work by a large number of skilled people, so of course it's not going to come cheap or be done overnight.
What is a D check?
The D Check itself involves literally stripping the aircraft back to the bones for a thorough structural inspection inside and out, removal of intakes, engines and engine bay doors for inspection and renovation of wiring etc, as shown in the image below (photo: Ricky Bastin).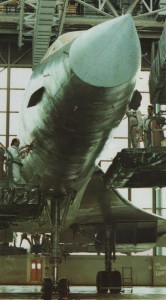 In addition to all of this, depending on how many aircraft are involved and whether or not they are going to be used for any commercial use (e.g. corporate or governmental charters) certain structural modifications may also be mandated.
In addition to the above, due to the amount of time involved, the hydraulic systems will almost certainly be required to be thoroughly purged and re-filled, which will require copious quantities of Chevron M2V – the hydraulic fluid that Concorde used. It is believed that Chevron has over a tonne of M2V in storage, but it is possible that a further production order will be required. Although it was specified that the hydraulic systems were to be drained, this does NOT appear to have been the case with the BA aircraft, which will make the restoration of these systems far less problematic.
We also have the problems of the engines, and it will be necessary to agree with Rolls-Royce a work requirement for the return of stored engines to flight condition. This will possibly again require a series of oil purges and refills in-between multiple installed engine ground runs, not to mention filter changes. (Fortunately there is no shortage in the world of Olympus engine oil. In the longer term an engine overhaul regime would be needed to be set up, the extent of which again would depend on the use to which the aircraft were put.)
Where would we find spare parts?
A large amount of spares and test equipment currently in storage at Brooklands museum would need to be requisitioned and refurbished, and the non-flyable aircraft would need to be purged of all their 'invisible' spares, such as all the electronic boxes, as well as fuel and air conditioning equipment that are located in the wings and fuselage of the aeroplane. (Nothing should be removed however that would any way detract from the visual appeal of the exhibit; and the idea is nothing removed would be normally visible to the visiting public). In the short term, this collection of equipment would be required to support the aircraft that were destined to return to the skies. All of the electronic racked equipment currently located on G-BBDG should definitely be requisitioned, as most of this was removed from G-BOAB and is production standard equipment.
How would we gain access to an airframe?
One thing that needs to be considered is current location of the aircraft and the suitability of those locations for major aircraft engineering. It is possible that aircraft would be granted a 'permit to fly' from where they are now to a central maintenance area where the D Check would be carried out. This would require a limited amount of maintenance being done. On the other hand, as all aircraft are located close to hangar facilities (G-BOAD, located next to the USS Intrepid in New York City,  would require re-locating to JFK), it is also possible for ALL of the work to be carried out locally, but this consideration of course is really for the future.
How would we obtain permission to fly Concorde again?
There are several options as far as recertification goes.
a) It can be just one or two aircraft in the UK and France being used for air displays etc. in a strictly subsonic heritage role. However, virtually every system required for supersonic flight is also required to be active for ANY flight above about 360 MPH, so no savings there, and no passengers as such can be carried. This option, however, is the least complex, requiring the least number of modifications, and in theory at least is the cheapest option.
b) It can be for a small group of aircraft certificated as 'freighters'. This would allow for full supersonic flight, but restricted to a very small number of passengers. It is possible, depending on the attitude of the airworthiness authorities, that these aircraft could be used on a small-scale commercial charter basis, such as corporate or governmental. The major advantage of this particular option is that it is quite possible that substantial structural modifications that are required to comply with an FAA requirement for 'aged aircraft', involving the crown area above the mid-fuselage, would not be required. However, other 'relife' type modifications would almost certainly be required.
c) Full recertification as a passenger-carrying aircraft, again for a small group of British and French aircraft. This is the most difficult and expensive proposition of all, requiring all modifications to be embodied, and also requires the strictest operating regime of all. The good news about the crown area modification is that it had already been drawn up prior to 2003, and is a known quantity.
How much work would be involved?
For options (b) & (c) a full overhaul regime will need to be set up in the longer term, for engines, airframe, and avionics equipment. The more airframes that are involved then the lower the UNIT costs will be, of course, particularly if they are given the opportunity to earn massive revenues as these 'super business jets'.
HOWEVER, it goes without saying that underwritten into any such contract is the requirement that all the MAJOR international air shows (Paris, Farnborough Singapore etc.) are provided for, giving the public all over the world the opportunity to see the most wonderful aviation icon of the 23rd century! (Well, that's where Concorde truly belongs – in the future.) It would also seem desirable, from many points of view, that the aircraft while not 'working' would still be located where possible at or close to their current museum locations.
Most critically we will also require getting manufacturer's support in order for any practical work to be carried out towards RTF, as well as gaining the all-important Ops Certificate. HOPEFULLY Airbus will agree to take this on, but if not another large organisation will be required, provided of course that Airbus is prepared to delegate this responsibility. In addition, the current owners of the airframes (BA in the UK and the individual museums in the case of any French aircraft) will need to be persuaded to agree for anything to move forwards; this is probably the biggest obstacle to be overcome. One idea is that a new holding company is set up to take ownership of the aircraft and directs all of the work to be carried out as well as controlling the day-to-day activities of the aircraft.
Given these challenges, is return to flight actually possible?
All we can say is that there is absolutely NO technical reason why Concorde can not only be returned to flight but can fly safely and successfully for many years to come. Bear in mind also that the two highest-hour aircraft, G-BOAD and G-BOAE, have the same amount of flying hours as a five-year-old Boeing 747-400, and to put this into perspective, British Airways have been operating these jumbos since 1989; TWENTY THREE YEARS!
THE AIRCRAFT
We will now look at the individual BA aircraft and their suitability as candidates for RTF. Whether or not an aircraft has received the 'post-crash' modifications as such is not in itself a show stopper, because if the CAA agrees as expected to de-mandate the tank liner modification itself, all that is left is the armoured wiring harness for the undercarriage and new tyres. Far more significant is the modification to the rear wing spar, and of the BA aircraft only G-BOAA and G-BOAB were not modified; this HAS to be done. Also, whether or not the engines are currently in place on an aircraft is irrelevant – they will have to be removed in the course of the D Check anyway.
The 'life' of the airframe is gauged both in hours flown and supersonic cycles. A cycle is a complete transition from subsonic to supersonic flight and of course back again. It is highly significant, in terms of the thermal cycling of the airframe being a major fatigue factor, and is just as significant a yardstick as hours flown. (The 'relife' programmes are based on supersonic cycles rather than hours flown, although D checks were carried out for every 12,000 hours flown.) You will notice that where there is any prospect at all of the aircraft flying again, we say 'most recent flight' rather than 'final flight'.
G-BOAA Aircraft 206, the first aircraft to be formerly delivered to BA.
Maiden flight: 5th November 1975
Final flight: 12th August 2000.
She has flown 22,769 HOURS and completed.6,842 SUPERSONIC CYCLES.
She flew the inaugural BA Concorde services both to Bahrain and to New York JFK.
She was previously reregistered as G-N94AA during the Braniff interchange services (IAD to DFW) that ran from January 1979 to May 1980.
LOCATION: East Fortune Museum.
CONDITION: Although this aircraft is a superb museum exhibit (and is lovingly cared for by the museum staff at East Fortune) she can NEVER fly again. In order to transport the aircraft by road, river and sea to East Fortune, the wing sections just outboard of the main undercarriage were CUT OFF! Although re-attached at the museum, the original cut lines can still be clearly seen, and the structural integrity of the wing is permanently destroyed.
Neither the post-crash or rear wing spar modifications were ever embodied.
RTF: No, unfortunately and sadly can never be considered as an RTF candidate.
G-BOAB Aircraft 208.
Maiden flight: 18th May 1976.
Most recent flight: 15th August 2000.
She has flown 22,297 hours and completed.6,688 SUPERSONIC CYCLES.
She flew back empty from JFK on the day that Concorde was (as recent information has confirmed) unjustifiably grounded by the CAA in the UK.
She was previously reregistered as G-N94AB during the Braniff interchange services.
LOCATION: Heathrow Airport.
CONDITION: The airframe is sadly in quite poor condition externally, the victim of years of neglect, having being stored out in the open since 2003 with very little in the way of care and maintenance. Holes have even been drilled in the forward fuselage to help drain away the water that had accumulated inside, although these could conceivably be repaired. (This by the way amounts to just about the ONLY maintenance carried out on G-BOAB since 2003.) There have been reports also of rat infestation of sections of the aircraft.
The majority of the flight deck was removed to service G-BBDG at Brooklands museum in Surrey, and there is not much in the cabin, save for a huge pile of BA magazines used for ballast!
Neither the post-crash or rear wing spar modifications have been embodied to date.
RTF: Not an ideal candidate in view of the deplorable condition that this aircraft has been allowed to deteriorate to, as well as the lack of flight deck or cabin equipment, BUT given the resources is a definite possibility, provided that there is no critical and irreparable corrosion damage to the structure.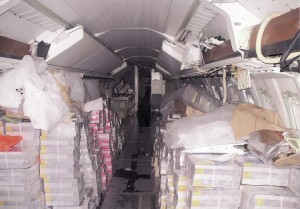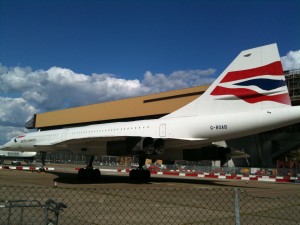 G-BOAC Aircraft 204.
Maiden flight: 27th February 1975.
Most recent flight: 31st October 2003.
She has flown 22,260 hours and completed.6,761 SUPERSONIC CYCLES.
She flew the inaugural BA service to Washington IAD, and is the OLDEST surviving Concorde airliner in the world.
She was previously reregistered as G-N81AC during the Braniff interchange services.
LOCATION: Manchester Airport Viewing Park.
CONDITION: In spite of her being the oldest BA aircraft, and having been located outside for the first five years at Manchester, the airframe, subject of course to a full structural survey, seems to be in very good condition indeed. In 2011, the aircraft systems were powered up again, and an initial survey revealed that about 90% of those systems were working perfectly; the remainder of these would be easily rectified, given time and spare parts.
Both the post-crash and rear wing spar modifications have been fully embodied.
RTF: A truly superb candidate for RTF: in fact, one of the best.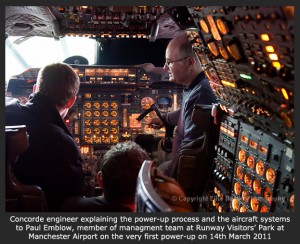 G-BOAD Aircraft 210.
Maiden flight: 25th August 1976.
Most recent flight: 10th November 2003.
She has flown 23,397 hours and completed 7,010 SUPERSONIC CYCLES. She flew the inaugural BA service to Singapore, via Bahrain. She has the distinction of having flown more hours than any other Concorde and possibly has spent more time at Mach 2 than any other aircraft in history.
She was previously reregistered as G-N94AD during the Braniff interchange services.
LOCATION: USS Intrepid, New York City.
CONDITION: Quite poor external condition: due to being located for so long in a salt water environment, some structural corrosion is quite possible. While the aircraft was being stored temporarily at Floyd Bennett Field, Brooklyn in 2008, a passing truck hit the radome, completely smashing the radome itself, as well seriously damaging the droop nose structure. A 'fix' was achieved using a hammer, blowtorch and some fibreglass!
Both the post-crash and rear wing spar modifications have been fully embodied.
RTF: Not the best candidate for RTF due to the possibility of salt water corrosion, and even if this is found not to be a major issue a replacement droop nose assembly will be required from one of the non-flyable airframes. (The nose section of G-BOAD can be fitted to the donor aircraft; although no good for flight, it is aesthetically satisfactory for display purposes.) There is no damage to the main structure of the aircraft as a result of the wayward truck; in spite of what has been written elsewhere, this in fact is not an issue. So in conclusion, possible RTF candidate, but not an easy one.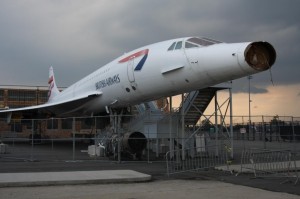 G-BOAE Aircraft 212.
Maiden flight: 17th March 1977.
Most recent flight: 17th November 2003.
She has flown 23,376 hours and completed.7,003 SUPERSONIC CYCLES. She was the last of the original batch of five BA aircraft.
She was previously reregistered as G-N94AE during the Braniff interchange services.
LOCATION: Grantley Adams International Airport Barbados.
CONDITION: In one word, superb! She has been under cover for almost the entire time that she has been in Barbados, and is very well cared for indeed.
Both the post-crash and rear wing spar modifications have been fully embodied.
RTF: The very best candidate for RTF as far as the British aircraft goes; she really is in that good condition.
G-BOAF Aircraft 216.
Maiden flight: 20th April 1979.
Most recent flight: 26th November 2003.
She has flown 18,257hours and completed.5,639 SUPERSONIC CYCLES.
She was originally flown as a 'White Tail' unsold aircraft before being purchased by BA in 1980, being delivered in June of that year. She was originally given the registration of G-BFKX, then test flown as G-N94AF after being purchased by BA. When it came to the delivery time the Braniff interchange had ended, and so she was registered for the third and last time as G-BOAF prior to delivery. She also has the distinction of being the last Concorde ever built.
LOCATION: Filton Airfield Bristol.
CONDITION: Externally quite poor, due to being stored outside for so many years, in spite of being the 'newest' Concorde in the world. Some corrosion damage has been evident on wing leading edge panels, although these items are 'bolt on', so if this was the only issue to consider, then things would not be too bad. A full structural survey would be required before any decision was made to carry out the work required to fly the aircraft again.
Both the post-crash and rear wing spar modifications have been fully embodied.
RTF: Quite a lot of work possibly required, plus the closure of Filton airfield in theory leaves the aircraft 'land locked'. So another possible candidate, but by no means the best.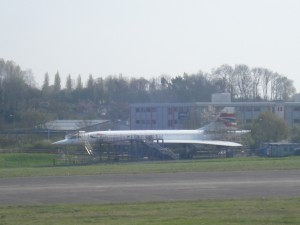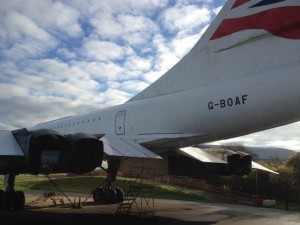 G-BOAG Aircraft 214.
Maiden flight: 21st April 1978.
Most recent flight: 5th November 2003.
She has flown 16,239 hours and completed.5,066 SUPERSONIC CYCLES.
She was originally flown as a 'White Tail' unsold aircraft, being 'borrowed' by BA in 1979 under her original registration of G-BFKW. Because she never had the necessary modifications she never participated in the Braniff interchange. When she was eventually purchased by BA she was re-registered in 1981 to G-BOAG. She had a three-year layoff between 1982 and 1985 due to a lack of spares, but proudly re-entered service in 1985 as the launch aircraft of the brand new 'Landor' livery. She flew the very last transatlantic Concorde service on 24th October 2003.
LOCATION: The Museum of Flight, Seattle.
CONDITION: Again, externally quite poor, due to being stored outside for so many years in a fairly damp climate. (Seattle may be one of the finest but certainly is not the driest city in the USA.) Again, a full structural survey will be required before any decision is made to carry out the work required to fly the aircraft again.
Both the post-crash and rear wing spar modifications have been fully embodied.
RTF: Yet again, quite a lot of work required, but hopefully not a prohibitive amount. A distinct possibility then as a candidate.